Kids on Patrol

Kids on Patrol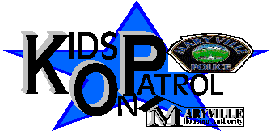 Kids on Patrol kicked off on Tuesday June 27th, 2000 with a swearing in ceremony by Police Chief Terry Nichols at the Maryville Police Department. This program was originally an idea of
Officer Bill Hughes
, but soon became a reality. Participants consist of 15 Boys and Girls between the 7 and 11 years of age. Each participant has their own uniform (cap, T-shirt, and shorts) and an official KOP Activity Manual. During the summer, kids met twice a week for field trips and other fun activities.
The program stresses citizenship and character building. The kids also learn about law enforcement during tours of various facilities as well as activities to reinforce the information they get. Hughes, Terry Elmore, and Joyce Baker used ideas from other housing authority youth programs along with ideas of their own and adapted it to our local needs. The goal of KOP is to increase understanding of police functions by teaching the young citizens how things work, not to start training future officers.
Graduation took place in August signifying the end of the summer program. Each boy and girl received a diploma for completing the program. There is a possibility that the program will be extended into the school year or be made a year round program. For further information, contact
Terry Elmore
.
Next: