Joyce Baker

Executive Director of the Maryville Housing Authority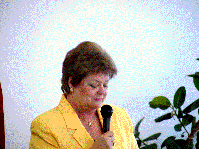 Joyce came to MHA in November 1998 after having served 28 years with the Department of Housing and Urban Development in the Public Housing Division. She is a LaFollette native currently residing in Farragut with husband Willis and son Eric. She has a married daughter, Joi who also resides in Knoxville with husband Aaron and son Ethan. A grandson Christopher rounds out her family.

While with the Department of Housing and Urban Development, some of the recognitions she received included the prestigious Sequoyah Literacy Award presented by the Tennessee Historical Commission for her work in developing educational programs onsite at public housing agencies; served on the Department of Human Services Task Force for Welfare Reform; was a member of the 1996 Statewide Criminal Justice Planning Group which prepared the Tennessee Drug and Violent Crime strategy for the state; and, was recognized two consecutive years by the Office of the Governer of North Carolina for her work in crime prevention efforts in public housing.

As Executive Director, she is the person who is ultimately responsible for the success or failure of the programs, the staff, and the agency in general. She must know much of the "nuts and bolts" of the operation in addition to other responsibilities in order to assure that MHA remains in compliance with federal, state and local laws, rules and regulations. She oversees all operations that take place at MHA.

Email her at : jbaker@maryvillehousingtn.org